News & Press
NEW Polaris Ride Command – Available Now:
December 5, 2016
Here at Industrial Vehicle Parts we are very excited to announce the arrival of the new Polaris Ride Command..
RIDE COMMAND – REVOLUTIONIZING THE OFF-ROAD EXPERIENCE
Imagine if there were a way to truly connect with your riding experience.
To be able to know where your riding buddies are without having to follow in their dust.
Or communicate with passengers without having to shout over engine noise and wind gusts.
Imagine monitoring and controlling your phone or GoPro even while they are out of reach—sharing your off-road experience with family and friends with the push of a button.
If you're looking to enhance your riding experience, you no longer need to imagine.
Polaris Ride Command allows you to effortlessly connect to your machine, your devices and your friends like never before—putting the off-road world right at your fingertips.
A 7 inch touch screen display designed for Polaris users, allows you to stay connected with friends, sync your phone via Bluetooth, capture your ride through GoPro link, mark tracks through GPS and much, much more!
EVERYTHING YOU NEED AT THE TOUCH OF A FINGER:
• Fuel Level, Coolant Temp, Battery Voltage
• MPH/RPM
• Trip 1 / Trip 2
• Group Ride
• Full GPS Capability (w/GPS Puck)
• Save tracks/trails (import/export) via USB or Bluetooth
• AM & FM tuner
• Preset Station & Genre
• Front and Rear (IR-Lit) Cameras (sold separately)
• GoPro Integration
• Missed Call/Text Message Icons
• Cell Phone Battery Life Icon
• Cell Phone Signal Strength
THE NEW RIDE COMMAND SYSTEM INCLUDES THE FOLLOWING COMPONENTS:
7″ Ride Command Display (2882068)
Dash Mounting Kit (2882069)
Optional Front Camera Kit (2882381)
Optional Reverse Camera Kit (2881653)
Optional SENA Bluetooth Headset (2867459)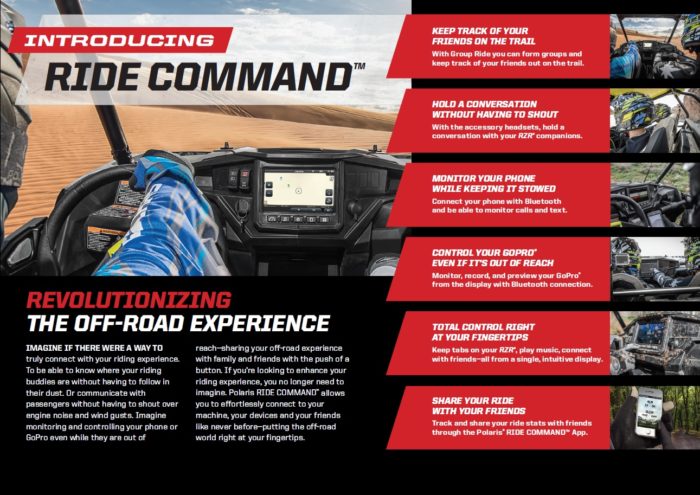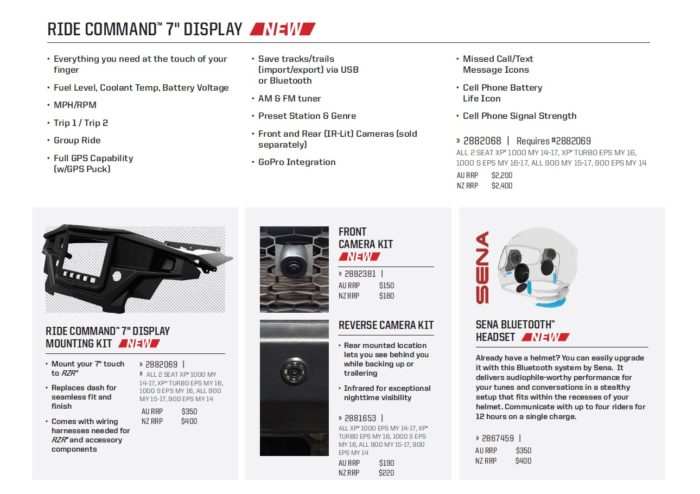 Read More ⟶